| | |
| --- | --- |
| Genre | female vocalists, indie, indie pop, pop, alternative |
Née à Lake Placid, dans l'État de New York, le 21 juin 1986, Elizabeth « Lizzy » Woolridge Grant se passionne à l'adolescence pour le cinéma hollywoodien, l'esthétique des années cinquante et soixante, et les polars de James Ellroy.
C'est sous sa véritable identité que paraît son premier titre « Kill Kill » en 2009. Le montage vidéo réalisé par ses soins impose alors son image glamour et mystérieuse, tandis que l'EP trois-titres charme par son timbre vaporeux et sensuel. L'année suivante est celle de la métamorphose opérée par l'album Lana Del Ray produit par David Kahne (Tony Bennett, Paul McCartney,…), assorti d'un échec commercial.
Il faut attendre l'automne 2011 pour voir le phénomène Lana Del Rey exploser avec la vidéo du titre « Video Games », propagée par les réseaux sociaux sur internet. Adulée ou détestée, la femme fatale tout droit sortie d'un film de David Lynch ne laisse pas indifférente.
La vidéo de « Blue Jeans » diffusée dans la foulée ainsi que quelques performances télévisées (Taratata et Grand journal de Canal+ en France, Saturday Night Live aux États-Unis) permettent de patienter jusqu'au 30 janvier 2012, date de la sortie mondiale de l'album Born to Die, qui met la planète musicale en émoi. Considéré comme un nouveau départ, ce deuxième album de Lana Del Rey suscite des commentaires aussi radicaux qu'à l'apparition du phénomène. Les critiques les plus positives soulignent le large nuancier vocal de la chanteuse, son art dramatique consommé et l'atmosphère envoûtante de l'album produit par Emile Haynie.
++++++++++++++++++++++++++++++++++++++++++++++++++++++++++++++++++++++++++++++++++++
Woolridge Elizabeth Grant was born in New York7 and grew up in Lake Placid, New York8 the United States. She is the daughter of Rob Grant, who manages domain names on net9 and who supported her career. At fourteen, she continued her studies at Kent School, a boarding school in Connecticut. Lana Del Rey then studied philosophy at Fordham University in New York.
Self-taught, she improves her vocal technique in churches and schools in his enfance10, where she first experiences singing in the upper registers before turning older to more serious note, with the help of her grandmother she describes as excellent chanteuse11. She has never taken lessons and said he only technical basis for the pleasure of playing with his voix11. At 18, she learned to play the guitar with his oncle11. Lana Del Rey says: "I realized that I could probably write a million songs with the six strings, then I moved to New York and I took a few years to write what I wanted." She began performing in clubs. After living in New York and London, she lives in Glasgow12 since October 2011.
Early career
She released a debut album in acoustics, Sirens, under the name May Jailer, but this disc goes unnoticed.
The titles were released on YouTube13.
Lizzy then looking for a new stage name. The artistic directors wanted evoke Hollywood glamor, in perfect agreement with its style musique14, it is the combination of the name of the Hollywood actress Lana Turner and the Chevrolet Delray, American car 1954-5815,4,5 years, 6, which will be retained. The name reminded Lizzy sea, friends of Cuba, and he sounded "wonderful" in any language, as she recalled later in an interview with Vogue.
She also said that at that time she wanted to be part of these talented musicians and fashion, which she was inspired because they can seek advice from friends, since she was little. She dreamed of meeting people, falling in love and build a community around it as was done in the years 196016.
In 2008, she recorded an EP entitled Kill Kill under the name Lizzy Grant17, including securities Kill Kill, and Yayo Gramma (Blue Ribbon Sparkler Trailer Heaven).
In 2010 released the album Lana Del Rey A.K.A. Lizzy Grant (better known under the name Lana Del Ray, she later changed the "a" Ray for an "e"), with an independent label and producer David Kahne to the console. According to her, David was asked to work with him the day after listening to his demo. Also according to Lana, Khane was then a producer known for his integrity and who had an interest in music that was not just pop18. His father, Robert Grant, helped with the marketing of this album, which was available for purchase on iTunes for a brief period before being withdrawn. According to David Kahne, Grant bought the rights back from his label to avoid future fuites9. We can now see that this precaution was necessary since all but the titles are available on YouTube. The disc has not done much bruit19 (although today the critics welcome ).
Lizzy Grant finally decided to become Lana Del Rey. Later, in June 2011, she signed with the label Stranger to produce a first single, and in October 2011, she signed a joint agreement with Interscope Records and Polydor. With clip Video Games made its soins20, singer been a buzz on social networks fall 20116. Had by then also posted on Youtube Blue Jeans Kinda Outta Luck (an old song that does not appear on the album Born to Die), and Diet Mountain Dew, a title dating back to his years Lizzy Grant which was later revisited by his producer Emile Haynie and inserted album.
Style and influences
When they discover the vintage style of Lana Del Rey, blending hip-hop references to the golden age of Hollywood, critics and users accuse him of wanting to imitate the first icons of the époque21, to this she replied that 'she had never claimed that it was just fascinated by the feeling of happiness that emanated from that time and it was only the simple ambition of being heureuse11. Journalists also sometimes compare the heroines of the films of David Lynch , of which she is a fan. It calls itself "Gangsta Nancy Sinatra" and describes her music as "Hollywood sad core" 22. At Jo Whiley, BBC radio presenter, she déclare23: "I like the best in each genre. "His main influences are Nirvana, Elvis Presley, Britney Spears, Antony and the Johnsons, Frank Sinatra, Bob Dylan, Jeff Buckley, Nina Simone, Eminem, 50 Cent and Nancy Sinatra (what feels in his songs as it mixes soul, rock, hip-hop and indie24) and some film personalities like James Dean or Marilyn Monroe, or poets like Allen Ginsberg and Walt Whitman.
Thus, its sound and visual are described by most people as eccentric or wild. Fame is for her a source of inspiration, what critics and journalists have often criticized him, but Noah Levy, senior news editor of In Touch Weekly magazine reported that his dedication and talent was undeniable, "I think she cares about the art she creates. I do not think this is faux25. "
The voice of Lana Del Rey can cover a wide range of sounds. It has been described as unique, exciting and very emotional, being able to sound just a very acute with "little girl" look in his tone, but also in severe for low and jazzy sound with ease, even if these two areas of the voice can sometimes be in conflict in their sound, and opinions differ on the quality of its chant26.
Celebrity and album release
The sections "Trivia", "Other details", "Did you know? "" Quotes ", etc.., May be inappropriate in the articles.
To improve this article should be, if the facts show an encyclopedic interest and are properly sourced, integrate in other sections.
Fame Lana Del Rey is built on several events that enabled him to build a solid fan base:
The song Video Games enjoyed good reviews of Pitchfork27 magazine.
NME and Magic placed the title at the top of their rankings of the best singles of 201,128.29 years.
The video for Video Games has exceeded before the end of 2011, fifteen million views YouTube30
Can be heard in an episode of the series Ringer and Gossip Girl on The CW.
Lana Del Rey made her first scene September 21, 2011 at Box New York31.
Notes its subsequent scenes in London were sold out in half an heure6.
Sales of tickets for his concert at the Olympia in Paris trente32 were completed in a minute.
His first single produced by Stranger Records, featuring the tracks Video Games and Blue Jeans was released in vinyl on October 10, 2011, and the digital to the United States.31 day.
Her album Born to Die released on January 27, 2012 in Switzerland, January 30, 2012 in France. Lana says that the meaning of the title is having to "transcend its status as mortal" 33. It includes the singles Video Games, Born to Die, Blue Jeans, National Anthem, Summertime Sadness and Dark Paradise and promotional singles Off To The Races and Carmen. He placed No. 1 in nine countries34. The response to the album by critics will sometimes mitigé35 amplified by judged to have failed in its appearance on Saturday Night Live36 and suspicions of plagiarism of the song ?????? movement ??? ??????? (Dromi power agapissa) Eleni Vitali37 creating all sorts of controversies, the main one being that on his lips. Critics, journalists, bloggers and netizens have decked out in all kinds of derogatory nicknames, accusing him of having recourse to cosmetic surgery and encourage duck face mode. She clarified that her lips were natural and in fact they did not seem too pulpeuses38.
The video for Born to Die is the first she does not realize alone. It is shot entirely at Fontainebleau with actor-DJ-model Bradley Soileau, and directed by Yoann Lemoine (aka Woodkid) 39 with which it will work again for the official video for Blue Jeans, as such benefit from another video directed by Lana in 2011. January 6, 2012 Off To The Races released as a promotional single in the Netherlands. On 16 March 2013, the video for Born to die passes the 100 million YouTube views.
April 21, 2012, post it on YouTube the video of Carmen, mounted in the same manner as that of Video Games, and concluded by an extract from the Gymnopedie No. 1 by Erik Satie. Carmen is used as a promotional single in Germany, Switzerland and Australia, but not in France.
End of June 2012 released the single National Anthem, with a clip where Lana Del Rey plays Marilyn Monroe and Jackie Kennedy, JFK is played by rapper Asap Rocky with whom she had worked for the title Ridin '.
In July 2012, she reveals the video Summertime Sadness, the new single, directed by Kyle Newman. It is a tribute to a knowledge of Lana died in 1999. In the clip, it's the actress Jaime King who plays the role she commits suicide, Lana did the same and found in the afterlife. Some of these images will be "recycled" in the video of Bel Air, a process common in the singer.
In November 2012, Lana said in an interview on RFM: "France and England have saved my album," referring to the lack of recognition of the United States against him.
March 1, 2013, comes Dark Paradise, the sixth and final single from the album, a remixed version. It seems that the title is exclusively for Germanic countries and Australia, are being distributed or offered for sale anywhere else.
Lana Del Rey extracted eight singles from her album Born To Die. The title, however, Radio arrived in the 67th spot of the French charts.
The after Born to Die
Very surprised by its success (thinking that his songs had no chance of being appreciated) and tired by the controversy concerning, she said that her album Born to Die could be his dernier40.
The leather Mulberry then creates a sac called the "Del Rey," inspired by the artiste41.
Lana Del Rey made an appearance on BBC Radio Kiss Goodbye and takes a title Kasabian42.
At the end of the summer, she signed a contract to be the muse of advertising next vehicle Jaguar .
In Sydney, it takes Heart Shaped Box Nirvana song that had marked much, since it is after listening to Kurt Cobain sing on television when she was eleven years old she decided to become a singer .
She followed with a television ad for H & M (Autumn-Winter 2012) stores that highlights its resumption of Blue Velvet by Bobby Vinton, the atmosphere evoking the films of David Lynch43
In September 2012, she surprised posing for photographs in the charming English British magazine GQ .
The reissue of Born to Die called The Paradise Edition released on November 12, 2012, with eight new titles including Ride, a new single accompanied by a clip-road movie Easy Rider evoking, and a very clean video for Bel Air, released in November . Blue Velvet is also added to the album and has its own clip.
In January 2013, Lana announced that his new single will Cola44, then a week later she confirmed that it will Paradise45 Dark (assuming this song as a single had already been mentioned in an interview). But to the surprise of all, she finally released the video for Burning Desire, its promotional song for Jaguar, the day of St. Valentin46. Finally, it is Dark Paradise and Burning Desire are chosen to end the exploitation of Born To Die.
At the end of the month, Lana says she recorded her second album, which will include a song called Black Beauty. Lana also said that this album will be more spiritual than its predecessor but still dark. She also says she has an idea of ??clip for Black Beauty, so we can assume that this will be his first single47.
Lana released a single for the soundtrack of the film The Great Gatsby, Young and Beautiful, April 22, 2013.
Discography
Main article: Discography of Lana Del Rey.
2010: Lana Del Rey A.K.A. Lizzy Grant
2012: Born to Die
Tours
The Paradise Tower
Awards and Nominations
2011
awarded the Q Awards in the category Q's Next Big Thing
nominated for Virgin Media Music Awards in the category Best New Artist
2012
awarded the BRIT Awards in the category International Revelation
named the NME Awards in the categories: Best New Band, Best Song and Best Video for Video Games
nominated for mtvU Woodie Awards in the category: Breaking Woodie
nominated for Independent Music Awards in the category Best International Video of the Year for Video Games
awarded the Ivor Novello Award in the category Best Contemporary Song for Video Games
named Echo in the price categories: International Newcomer of the year and hit
awarded the MTV Europe Music Awards in the category Best Alternative Artist
2013
awarded the BRIT Awards in the category Best International Female Artist of the Year
awarded the Echo in the categories: Best International Artist Pop / Rock and Best Newcomer International
appointed and awaiting the results at the World Music Awards in the categories: World's Best Female Artist, world's best song (for video games), World's best album (for Born to die), World's Best Video (for clip Born to die) and World's Best Entertainer
Source
Top Titres 1
Summertime Sadness 2
Video Games 3
Born to Die 4
Young and Beautiful 5
Blue Jeans 6
Diet Mountain Dew 7
National Anthem 8
Dark Paradise 9
Radio 10
Off to the Races
Top Albums
Born to Die - The Paradise Edition
pistes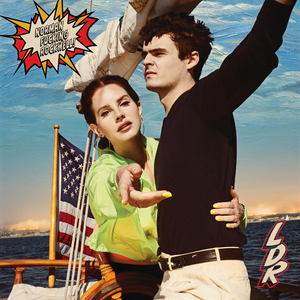 Norman Fucking Rockwell!
pistes